Lake Barrine
(Barany)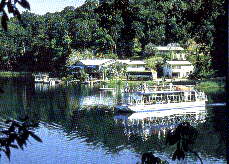 G
eological History:
Lake Barrine is an extinct volcanic crater lake filled with cool, clean, crystal clear water, surrounded by lush tropical highland rainforest.
It has a surface area of 240 hectares and is approximately 65 m deep and 1 km in diameter
Massive blocks of earth and rock were thrown up as a phreatic volcanic explosion created this maar, Molten rock came into contact with cool groundwater, creating great amounts of steam. This caused a build-up of pressure which then exploded out of the ground, creating a crater.
It gradually filled with water from runoff and precipitation.
This occurred approximately 13,000 years ago
Aboriginal History:
A Ngadjonji story describes the creation of three volcanic crater lakes- Yidam (Lake Eacham), Barany (Lake Barrine) and Ngimun (Lake Euramoo).
'Two men broke a taboo and angered the rainbow serpent, a major spirit of the area. The earth roared like thunder and the winds blew like a cyclone. The ground began to twist and crack and there were red clouds in the sky that had never been seen before. People ran from side to side but were swallowed by a crack which opened in the earth.'
Interestingly, in the course of this story, the country is described not as rainforest but as open scrub. This observation is supported by pollen records.
General Information:
Lake Barrine is a ten minute drive from Lake Eacham.
As with Lake Eacham, Lake Barrine offers safe swimming, as well as picnic areas for your leisure.
There is a restaurant on the shoreline which offers five star views from open air balconies as well as glass enclosed tearooms.
It is an unforgettable place to enjoy lunch and Devonshire Teas.
Lake Barrine and the Atherton Tablelands area has a range of endemic reptile and mammal species.
Lake Barrine Wildlife Cruises:
Run four times a day taking you around the perimeter of the lake showing and discussing rainforest plants and animals.
Cruises are at 9:30am, 11:30am, 1:30pm and 3:15pm (We recommend the 9:30am cruise.)
Be sure to allow time to browse through the extensive range of Tableland momentos available in the souvenir shop.

Lake Barrine shows you all the magnificent plants and animals that exist in this magical crater lake and surrounding rainforest environment.
For much of this century, it has been one of the top tourist attractions of Tropical North Queensland.

Enjoy a short walk to the 1,100 year old Twin Kauri Pines, or the six kilometre rainforest circuit walk around the lake's edge.
---
Walking Trails
Twin Kauri Pines:
These trees are situated a short walk from the picnic and swimming area of the lake.

The path is well constructed with a bitumen surface leading to a wooden platform built close to each tree trunk with interesting information posts describing the trees' history and importance to their environment.
Perimeter Walk:
A continuance of the Twin Kauris walk will lead eager walkers to begin the six kilometre perimeter walk of Lake Barrine (1213Ha).

It is recommended that at least one and a half hours be allowed to complete the walk.

Common sightings include the Musky Rat Kangaroo, carpet Python, Water Dragon, Ulysses Butterfly and prolific bird life.

Although reasonably long, the walk is still quite leisurely, with wooden benches placed at the lakes edge offering a wonderful view of the tea house, whilst you relax and catch your breath.
Additional Lake Barrine Photos
Additional Lake Barrine Photos #2
Additional Lake Barrine Photos #3
Additional Lake Barrine Photos #4