Ulysses Butterfly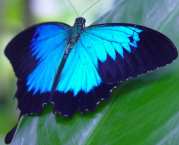 Photo: Courtesy Mattheus Nube
Ulysses Butterfly: (Papilio ulysses)
It has an alternative common name of Mountain Blue.
This is one of the most easily recognised butterflies due to its trade marked electric blue wings.
It has become a symbol of tourism throughout Northern Queensland.
Its is commonly found from Mackay north, but appears more prevalent in upland rainforest areas.
The Ulysses populations have recently increased in suburban area due to the planting of its larval food plant (Euodia elleryana).
During courtship the male briefly flutters above the female, displaying its bright blue wings. Pairing usually lasts around 2 hours.
Flight is strong, controlled, and swift. It flies in woodland and open country with an undulating flight.
It Drinks from flowers and puddles of water.
Additional Information: Courtesy of Damon Ramsey
When perched, the iridescent blue is hidden by the still attractive but darker underwings (above).

They often fly above or on the edge of the canopy, frequently along rivers and the side of the road, and are commonly attracted to gardens in the region.

As it open and shuts its wings in flight, the flashing of it's bright blue can be seen from several hundred metres away.

It's caterpillar feeds on the pretty 'Pink Evodia' tree that can be found along the roadsides in the wet tropics. Caterpillars also feed on Citrus.

Additional Ulysses Butterfly Photos

Additional Ulysses Butterfly Photos 2

Additional Ulysses Butterfly Photos 3
Additional Ulysses Butterfly Photos 4