Malanda Falls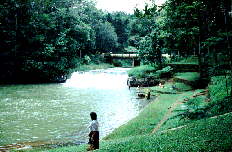 Malanda Falls:
A fifty (50) metre walk will take you from the Environmental Information Centre to the Malanda Waterfall.
These falls offer a good swimming opportunity with a picnic area and grass area for your leisure.
Walks up and down stream most certainly will fill you with a great sense of adventure.
Various paths will take you through the magnificent environment of the area, illustrating the dense nature of the rainforest and all it has to offer.
Across the road from the falls is another short rainforest walk that will offer you some magnificent photo opportunities.
Close to its beginning is a platypus, turtle and lizard-viewing platform that, with any luck will allow you to see some of the animals Malanda's rainforest holds.