Lake Eacham Perimeter Walk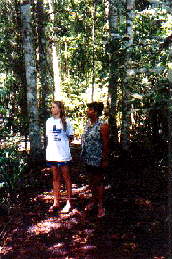 Lake Eacham Perimeter Walk
The Lake Eacham perimeter walk extends for 4km around the crater lake. The walk begins close to the lake's edge at the northern most end of the carpark. It is an easy walk with many spectacular examples of the elk and staghorn ferns, strangler fig trees, lawyer vine (wait-a-while palm) and tree fern plants. Along the length of this walk you are also likely to see some excellent examples of fungi.
The walk is bituminised which enables wheelchair access and makes for an easier walk all round.
Track damage does occur after storms but is soon removed with the maintenance done on the track.
There are turtle viewing platforms near to the end of the walk, where you are also more than likely to see some Bearded Water Dragons and the fish which inhabit the waters of the lake.
Feeding of the fish and turtles is not permitted.
Fishing is prohibited.